Hear it from OUR childrens yoga franchise team!
Why did you join the Kalma Baby childrens yoga Franchise?

More time with my family, teaching in a secondary school was becoming increasingly difficult with the work load, wanting to work hard for me and my family and nobody else! Lisa Cryer Kalma Baby Gateshead
Flexible working hours, self employment, doing something I thought I would enjoy and that was a little different and to make a difference to children and parents. Vicki Moore Kalma Baby Durham
I wanted to work flexibly so I would have time for my boys. Also, I wanted something for myself. I wanted to start my own business, work for myself and be in control of my own time, rather than work for someone else and everything be on someone else's terms. Cat Roberts Kalma Baby Hexham
What suprised you about the process?

The difference it has made to my life. Lisa Cryer Kalma Baby Gateshead
How easy it was to set up from scratch and the help and support you get along the way vicki moore Kalma Baby Durham
I have been surprised about how in-depth the training given by Kalma Baby is, I think this is a really good thing as it definitely gives you the confidence you need to deliver good quality classes. It also sets your brand and Business apart from others in that your a trusted yoga teacher with safe knowledge. The training is also really fun, and it never feels like work at all! I really enjoyed our recent CPD day another thing which surprised me is we aren't just left alone once the business is set up. Cat Roberts Kalma Baby Hexham
Whats been the highlight of being your own boss?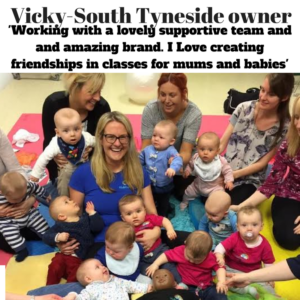 Flexible Hours, meeting new parents and yogis, making lifelong friends, receiving amazing feedback about classes-and being an award finalist in what's on for kids awards, including all my family in the business, watching my yogis grow hitting milestone along the way, and finally opening the first ever children's yoga studio in Durham! Vicki Moore Kalma Baby Durham
Being able to do the school run every day. More time with my family. The harder I work the more money I earn. Choosing hours to suit me. The improvement in my health and wellbeing. Lisa Cryer Kalma Baby Gateshead
Flexibility to set your own days and times of work which has ha a positive impact on the time spent with the family. However, you still have a sense of working hard, which I've applied from my previous job as a solicitor only it's working hard for my own business. This gives me greater satisfaction as it's my own to work on and grow which has massive potential in the future. Cat Roberts Kalma Baby Hexham
[trustist-reviewer widget="TR"]